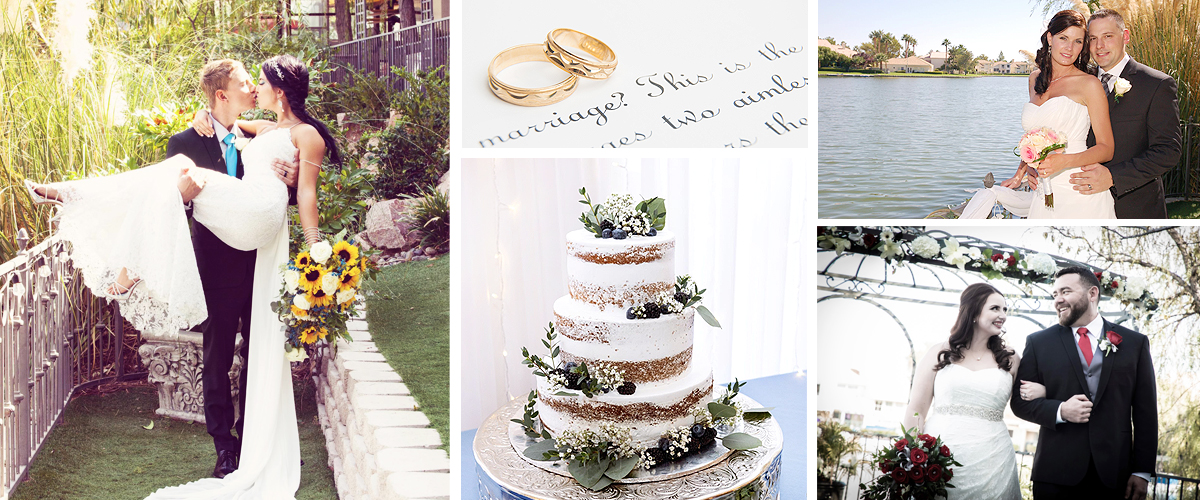 If you happen to be seeking out an exceptional, beautiful, and affordable Las Vegas wedding venue with an impeccable reputation, you have just found it — Always & Forever Weddings and Receptions. Our full-service venue offers wedding packages that will not only meet the needs of your big day, but also exceed your expectations. Along with this, our ceremony and reception sites are located in the ever-popular Desert Shores Community of Summerlin, and showcase lake and garden views, gazebos, a 6-foot waterfall, and more. Always & Forever can provide you with Las Vegas wedding packages for all inclusive, ceremony only, as well as reception only options. With all that in mind, let's dive in to learn all about our packages, what's included, our venue locations, and everything in-between.
Our Popular Las Vegas Wedding Packages Will Exceed Your Expectations
At Always & Forever, we know that each couple will have their own preferences and expectations. Because of this, our team has created various packages to meet your needs. This includes ceremonies with no guests, small wedding parties, as well as large weddings where 100 or more guests attend, and evening wedding packages too. In addition to this, we offer all-inclusive ceremony and receptions in an outdoor setting, ceremony only and reception only packages, as well as incredible indoor wedding chapel packages. As you can see, we have something for everyone, and if there is a must-have option that you have in mind, but can't find it on this page, let us know and we will see if we can make it happen for you – after all, our goal is to make your wedding day dreams come true!
Impressive Outdoor Ceremony Packages Complete with Lakefront Wedding Gazebos

Always & Forever showcases exceptional packages that were created to provide an outdoor ceremony experience you and your guests will never forget. In fact, our full-service Las Vegas wedding venue has ceremony sites that boast lake views, gazebos, as well as garden settings.
If we have sparked your interest, continue reading to learn more about Always & Forever and its fabulous ceremony venue options:
1. Outdoor Weddings — Packages that Provide You with a Gorgeous Las Vegas Ceremony Location
The Desert Shores Area of Summerlin in Las Vegas is known to be the ideal location for saying your "I DOs" with the one you love. This is one reason why Always & Forever Weddings and Receptions is such a popular venue to tie the knot.
Our full-service venue can offer you affordable outdoor wedding packages in Las Vegas, complete with stunning scenery such as a sparkling lake, swaying willow trees, picturesque gardens, and more. Additionally, the event planners at Always & Forever will work with you to plan the wedding of your dreams — from selecting the outdoor ceremony that will fit your needs perfectly, to providing you with beautiful flowers, we have you covered. We have something for everyone, from small ceremony preferences to 50 guests or more.
View some of what our fabulous outdoor wedding packages offer:
Beautiful lakeside ceremony sites that you and your guests will love
Lush green gardens that make for exceptional wedding photography
Exquisite Las Vegas ceremony settings with ivy-colored romantic gazebos
Peaceful swaying willow trees that look sensational
Option for standing in front of a stunning 6-foot waterfall while you say your "I DOs"
2. Lake Weddings — Enjoy Beautiful Lake Views During Your Ceremony
If you would like to have a lake wedding in Las Vegas, Always & Forever is here to make it happen for you — lake weddings are what we are known for! In fact, our ceremony altars are located right on the shores of Lake Jacqueline, complete with a charming stone bridge in the background.
This sparkling lake creates a romantic atmosphere that will make your wedding day an unforgettable event, and will enable your wedding photographer to capture breathtaking ceremony photos that you will cherish forever.
Here's a summary that details our Las Vegas lake weddings:
Amazing sunsets over the lake create a truly romantic atmosphere that allow for a romantic sunset wedding.
Gorgeous ceremony gazebos near the water for a fairy tale wedding day
Ceremony altars that rest on the edge of a breathtaking lake
Tranquil lake breezes add a peaceful element to your ceremony
Picture-perfect gardens along the lake's edge create incredible wedding photos
Stone bridge over the water adds a charming touch to your special day
3. Gazebo Weddings — Have a Truly Romantic and Beautiful Ceremony
Romantic weddings and gazebos go hand in hand, especially when adorned with flowers and ivy. Our outdoor ceremony sites feature lovely gazebos, and you can read more about them in detail by visiting our main Las Vegas Gazebo Wedding Packages page. Not only are the Always & Forever gazebos gorgeous in themselves, but add the fact that they have a fabulous lake backdrop and are situated within a garden setting — it all makes for a stunning ceremony site.
In addition to this, our all inclusive and ceremony only packages enable you to add special elements to our gazebos to make them your own. You can add such things as wedding flowers, ribbons, fabric, and the like. This will also enable you to add a splash of color to match your wedding colors. Even if you don't place anything on them, our wedding gazebos look exceptional on their own!
You're going to love our romantic gazebos, and here's why:
Always & Forever has beautiful round and domed Las Vegas ceremony gazebos
We provide you with a choice of several gazebo wedding packages
Our elegant gazebos are ivy-entwined and in a garden setting
Designed to provide a romantic element to your wedding day
We have three lakeside gazebos and one within our Waterfall Garden
Las Vegas Wedding Packages with Gorgeous Venue Location Options

Are you looking for a breathtaking outdoor ceremony site, or perhaps an indoor wedding chapel option? If so, Always & Forever can meet your specific preferences, as well as give you several options to choose from. Our full-service Las Vegas wedding venue is known for having some of the best ceremony sites near the Vegas Strip. Why is this the case? Because we offer lakefront wedding altars, garden settings, romantic gazebos, and more. Along with this, our wedding chapel is modern and elegant and offers outstanding ceremony packages.
Take a look at our ceremony venues below that are available for Las Vegas all inclusive weddings, as well as ceremony only packages, depending upon the location:
Our Swan Garden ceremony location, which is available for all inclusive weddings, offers you an elegant wedding gazebo that rests on the edge of a tranquil lake, with swaying willow trees and other beautiful greenery. Also, the lake features a stone bridge in the background that can add a charming element to wedding photos. This wedding site is conveniently located near downtown Vegas, and within the upscale Desert Shores Community of Summerlin. When booking an all inclusive package, the Swan Banquet Room is used for the wedding celebration. Take a photo tour of this exceptional Las Vegas ceremony venue by diving into our image gallery for Swan Garden.
Always & Forever's Grand Garden showcases incredible greenery, as well as amazing statues, and a stone walkway for the bride's grand entrance; this all certainly makes for a stunning location to say your "I DOs". Grand Garden also boasts a lovely gazebo at the lake's edge, a charming stone bridge in the distance, and calming lake breezes. This ceremony location is only available for all inclusive weddings, and the Grand Atrium Banquet Hall is used for the reception. Be sure to see for yourself just how wonderful this Las Vegas wedding venue is by stopping by our Grand Garden image gallery.
This particular Las Vegas wedding venue sports lovely cascading green arches that can have beautiful string lighting added, which makes for an incredible walkway for the bride as she makes her way to the altar. Heritage Garden also features an ivy-covered lakeside gazebo that flowers are often added to for a romantic touch. You and your guests will enjoy incredible lake views, and just as with Swan Garden, a charming bridge over the water is seen in the background. Additionally, this ceremony site also showcases an outstanding garden setting. When you say your "I DOs" within the beautiful Heritage Garden with an all inclusive package, your celebration will take place within the Swan Banquet Room. This ceremony location is really a must-see, so head over to our Heritage Garden image gallery for some examples that will be sure to impress.
Our Waterfall Garden ceremony site is truly unique in that it provides you and the one you love the opportunity to say your wedding vows in front of a cascading 6-foot waterfall as you stand beneath a beautiful ivy-covered archway, all within an outstanding garden setting. This Las Vegas wedding venue is typically preferred by those who are having a small wedding ceremony. Additionally, the reception to follow will take place in the Royal Banquet Room. We invite you to visit our Waterfall Garden image gallery to see just how exceptional this location is.
If you're seeking out an indoor wedding venue, Always & Forever can help. We have one of the most beautiful wedding chapels in the Las Vegas area, and it's called the Lakeview Chapel. This gorgeous ceremony site showcases floor-to-ceiling windows that offer exceptional lake and garden views, elegant chandelier lighting, a modern design, as well as the option to say your "I DOs" inside the chapel, or just outside the chapel doors. Stop by the Lakeview Chapel image gallery for a chance to see some amazing images of couples who have married within this Las Vegas wedding chapel.
Affordable Packages for All Inclusive, Ceremony Only, and Reception Only Options

No matter what type of wedding you're planning — a ceremony only affair, a large or small all inclusive wedding, a wedding for two, or perhaps you're seeking out a reception only package; know that we can make it an unforgettable event for you and your guests. Below, we have gathered all the information you would need on the various Las Vegas wedding packages that we offer for your special day:
1. Ceremony & Reception All Inclusive Wedding Packages
An all inclusive wedding package will allow you and your guests to enjoy the convenience of not having to drive to a separate location after the ceremony is complete; imagine being able to just head over to your reception venue that's just steps away from the wedding altar. This makes the day stress-free for your guests as well since they won't have to drive to an off-site location when they're not familiar with the area. This is just one benefit that Always & Forever's all inclusive Las Vegas wedding packages can provide on your big day.
In addition to this, our ceremony and reception packages include everything you would need to have an exceptional wedding, and our event planners will work with you every step of the way to ensure your wedding and reception goes as perfect as you would expect it to.
Our all inclusive packages are affordable, and can offer you the chance to marry the one you love with a stunning lake as your backdrop. If this sounds too good to be true, then be sure to visit our Las Vegas All Inclusive Wedding Packages page so you can read up on all the amazing details. Also, below we are providing a summary of what you can expect when you book an all inclusive package at Always & Forever Weddings and Receptions.
Take a Look at a Summary of What's Included with Our Ceremony & Reception All Inclusive Packages:
You will have access to one of our Always & Forever bridal suites prior to the ceremony.
A certified wedding planner will be there with you every step of the way.
The bride and groom will enjoy one of our beautiful ceremony sites.
A reputable wedding photographer will take photos of your big day.
We provide a wedding floral credit with all inclusive packages.
Your Las Vegas wedding package will include traditional ceremony music. Dive into this post to find out which is better for you – a DJ or live music.
You and your guests will have access to one of our elegant reception halls.
Always & Forever takes care of the table and chair set up.
We give you a wide variety of color choices for your table linen.
Each reception table will have a lovely rose centerpiece placed.
Your Las Vegas reception will include a professional DJ.
The ceremony and reception package you select may include a Champagne toast.
We provide free standard drinks such as soda, water, coffee, and tea, and offer drink upgrades.
Every wedding reception comes with a fabulous meal that you and your guests will love.
A 2 or 3 tier wedding cake is included with your Las Vegas all inclusive wedding package.
We encourage you to head over to our All Inclusive Wedding Packages page for a complete list of our package inclusions and more.
Check Out Our All Inclusive Packages for These Fabulous Ceremony Locations:
View Our Waterfall Garden Ceremony Site and the Corresponding Wedding Packages: