Las Vegas Bridal Hair & Makeup Packages for Your Wedding Day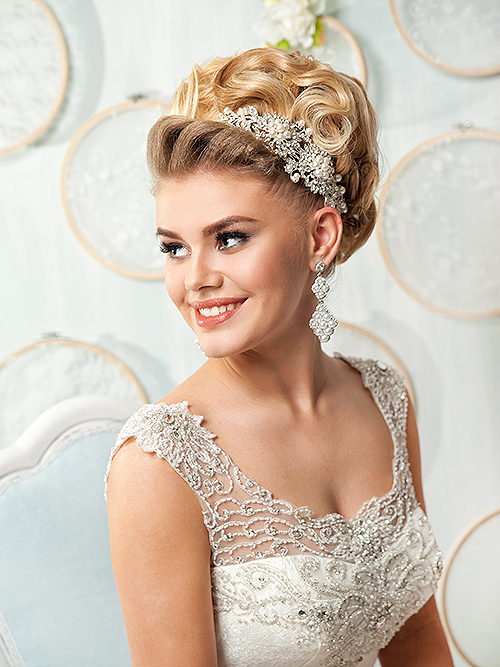 We know how essential it is to look fabulous on your wedding day, and that's why we offer outstanding bridal hair and makeup packages through Lakeside Bridal Services, a division of Always & Forever Weddings and Receptions, at The Salon at Lakeside in Las Vegas, NV. Our experienced and talented bridal salon team can take care of all your wedding day beauty needs – from hair and makeup to lashes, and more. We are here for you to create the beautiful look you desire for your special day.
Best Bridal Hair & Makeup Salon in Las Vegas
We have an impeccable reputation as being one of the best bridal salons in Las Vegas, and for good reason. Our bridal salon team aims to exceed your expectations with their years of experience, quality hair and makeup products, the latest salon equipment, exceptional talent, as well as their goal of perfecting your wedding day look.
In addition to this, because we are located in the wedding capital of the world, our team books wedding hair and makeup appointments on a weekly basis. This has provided the experience of working with various hair types, complexions, styles, and preferences. With that said, our bridal salon staff is well versed in creating a look that's right for you, one that you will absolutely love.
Bridal Salon Complimentary Consultation
It goes without saying that one of the most important elements of perfecting your wedding day hair and makeup is the consultation. Why is this the case? Because it's an essential meeting between the bride and their bridal salon specialist that will set the path for a final appointment that goes exactly as planned. The consultation is a time when you and your stylist can get to know each other, discuss your wedding hair and makeup goals, as well as what your preferences and expectations are.
If you're not able to arrive before your wedding day because you reside out of town, we can simply do a phone consultation. In this case, it's recommended that you email photos of must-have makeup and hairstyles, as well as a picture of yourself. At this point, if you decide to move forward, we can also book your trial run, as well as review contract and cancellation policies, and collect a 50% deposit. Also, it's important that you know that the consultation is the first phase of creating a stunning wedding day look that's picture-perfect!
A bridal trial run is simply an appointment you book where you "try out" your desired hairstyle and makeup application. This is an essential step in the process because you would not want to find out on the morning of your wedding day that the updo you thought was perfect, turned out to not look well with your dress style or facial features.
To have a successful trial run, it's important to bring along any accessories you will be wearing, such as your veil, hair clips, and jewelry. If possible, it would be a good idea to bring along a photo of your wedding dress. This will give your stylist a complete overview of your wedding day look before the appointment begins. It's best to book your practice run about 3 to 4 weeks before your wedding day.
Your Wedding Day Appointment
On your actual wedding day, your bridal hair and makeup specialist will recreate the look that was achieved during the trial run, or a look that is provided via images. Your stylist will also place your veil, pins, clips, a tiara, as well as flowers, or any other accessories that you bring along. Additionally, your makeup will be perfectly applied with traditional or airbrushed techniques. Most brides prefer airbrush makeup due to the fact that it can achieve a flawless look and has exceptional staying power.
Below you will find our bridal salon services and prices:
Bridal Hair & Makeup Services and Pricing
Trial Traditional Makeup: $80+

Trial Airbrush Makeup: $95+

Trial Airbrush Makeup & Hair: $180+
Flower Girl (Age 1-10 Years Old)