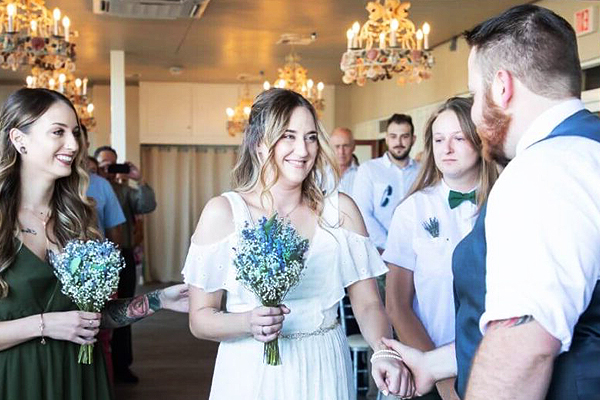 From: $1,249
For those couples who are having a large ceremony and looking for an exceptional Las Vegas wedding chapel near the Vegas Strip, look no further. Always & Forever Weddings and Receptions has a popular and modern chapel that you can say your "I DOs" in when you book the Lakeview Chapel Imagine Ceremony Only Package. Our wedding chapel features outstanding floor to ceiling windows that sport lovely lake and garden views. Additionally, the bride and groom will have the choice of standing at the altar inside the chapel, or just outside the chapel doors. The Lakeview Chapel is well known within the Las Vegas area, and we encourage you to stop by for a personal tour!
Lakeview Chapel Imagine Ceremony Only Las Vegas Wedding Package
Reserve Monday-Thursday to Receive $100 Off This Package!
$1,349 Friday – Sunday (not available at sunset)
$1,249 Monday – Thursday (package price includes a weekday discount)
This Las Vegas ceremony only wedding day package includes up to 100 guests
Our Imagine package is not available at sunset Friday-Sunday
Ceremony Inclusions for Lakeview Chapel Imagine
Access to the Lakeview Chapel for 1 Hour
Bridal Room Use for 30 Minutes Before the Ceremony
Licensed Officiate Will Be Available for a Civil or Traditional Wedding Ceremony – The Minister's Fee of $75 is Not Included
Our Certified Las Vegas Wedding Planner Will Be Available to Help Plan Your Special Day
You Will Receive a $50 Wedding Flower Credit for Your Ceremony
We Provide Wedding Photography Coverage – Chose Your Favorite three images and Receive three Digital Downloads, Copyright Included (photo packages purchased separately)
Enjoy Traditional Wedding Music for Your Ceremony
Your Wedding Guest's Chairs Will Be Set-Up for Them Before the Ceremony Starts
If you have a large guest count of up to 100 people, Lakeview Chapel Imagine is an ideal choice. However, if you're not positive that you want a Las Vegas chapel wedding, and would like to explore our outdoor ceremony site with lake views, then we suggest taking a look at our Heritage Garden Harbor Ceremony Only Wedding Package, which comes with incredible inclusions, a ceremony gazebo, and stunning scenery.
The Lakeview Chapel Imagine Package is for up to 100 wedding guests. There will be a $10 charge for each additional person. Children under the age of two do not count.
The Imagine package price does not include the 16% service fee and taxes on certain items. It also does not include the $75 minister's fee.
Tie the Knot Near Downtown Vegas with the Help of Always & Forever
It's important to be prepared for your wedding day by being well informed. With that said, know that we have plenty of informational pages that contain essential details on ceremony sites, reception halls, popular wedding packages, and more. Before you make your decision as to which package you would like to book, feel free to take a look around our site to see all that we offer that can make your wedding day a dream come true. To help you get started, we have listed out a few of our top wedding pages:
Book the Lakeview Chapel Imagine Ceremony Only Package for an Incredible Wedding Day!
When it comes to Las Vegas wedding chapels, we know that ours is the very best. How could it not be with its beautiful large glass windows, ceremony altar that boasts a sparkling lake view, elegant chandelier lighting, and a modern design? If you have fallen in love with the idea of getting married in the Lakeview Chapel, and the thought of having your wedding near the popular Las Vegas Strip, then make sure to reach out to our helpful wedding team at (702) 318-5683. We are here for you to make your wedding dreams come true and to ensure you have an unforgettable day!