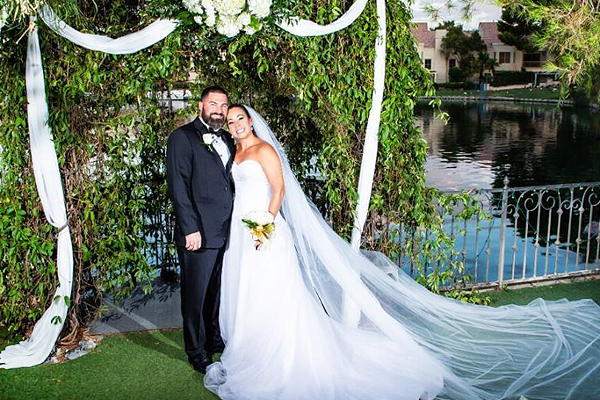 From: $1,699
This outstanding Las Vegas ceremony only package will enable you to make your grand entrance through a stunning garden with a tranquil lake as your backdrop. You will then say your "I DOs" beneath a lovely gazebo, which is certainly a romantic atmosphere. You can have this type of Las Vegas wedding day when you book the Heritage Garden Harbor Package offered at Always & Forever Weddings and Receptions. This particular ceremony only package is for those who are planning a wedding with up to 100 guests. Our full-service wedding venue performs large ceremonies such as this every week, and they turn out absolutely perfect!
Heritage Garden Harbor Ceremony Only Las Vegas Wedding Package
Reserve Monday-Thursday to Receive $100 Off This Package!
$1,799 Friday – Sunday (not available at sunset)
$1,699 Monday – Thursday (package price includes a weekday discount)
This Las Vegas ceremony only wedding day package includes up to 100 guests
Our Harbor package is not available at sunset Friday-Sunday
Ceremony Inclusions for Heritage Garden Harbor
Access to the Heritage Garden Ceremony Site for 1 Hour
Bridal Room Use for 30 Minutes Before the Ceremony
Licensed Officiate Will Be Available for a Civil or Traditional Wedding Ceremony – The Minister's Fee of $75 is Not Included
Our Certified Las Vegas Wedding Planner Will Be Available to Help Plan Your Special Day
You Will Receive a $100 Wedding Flower Credit for Your Ceremony
We Provide Wedding Photography Coverage – Chose Your Favorite three images and Receive three Digital Downloads, Copyright Included (photo packages purchased separately)
Enjoy Traditional Wedding Music for Your Ceremony
Your Wedding Guest's Chairs Will Be Set-Up for Them Before the Ceremony Starts
Our selection of Ceremony Only Packages for large weddings of up to 100 guests is exceptional and includes two venue locations. So, if you're planning a big outdoor wedding, we suggest the Heritage Garden Harbor option. We also recommend viewing our indoor option – Lakeview Chapel Imagine Ceremony Only Wedding Package (up to 100 guests).
The Heritage Garden Harbor Package is for up to 100 wedding guests. There will be a $10 charge for each additional person. Children under the age of two do not count.
The Harbor package price does not include the 16% service fee and taxes on certain items. It also does not include the $75 minister's fee.
Las Vegas Planning Resources at Our Full-Service Wedding Venue
Even though our wedding packages include all that's required for your big day, Always & Forever knows that most brides and grooms love to be part of wedding research and planning. With that in mind, comb through the following pages below to see what you gravitate towards based on your needs and interests. Our team has included wedding planning resources for such topics as all inclusive weddings, romantic gazebo ceremonies, and more.
Reserve the Heritage Garden Harbor Ceremony Only Package Today!
If you and the one you love would like to invite up to 100 guests to your ceremony, then our Heritage Garden Harbor Package can make your wedding day a success. This ceremony only package is an affordable choice and will provide you with all you would need for a memorable ceremony. To schedule the day you're hoping for, reach out to us at (702) 318-5683. You can also get a hold of Always & Forever Weddings and Receptions online any day of the week. We can't wait to assist you in planning your big Las Vegas wedding ceremony!