Las Vegas Wedding Reception Venues
If you're looking for an elegant Las Vegas Wedding Reception Location, we can help. We have three gorgeous banquet rooms to choose from, and we offer package options so that you can have everything arranged in advance, simply and easily. Choose from our Swan Banquet Room, Grand Banquet Room or our intimate Waterfall Banquet Room for your reception—no matter which you choose, you won't be disappointed!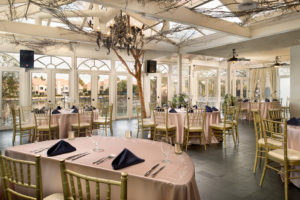 $4,750.00 – $10,495.00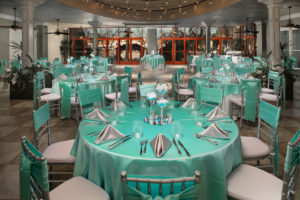 $4,750.00 – $10,495.00
Reception (Only) Package Options
Always & Forever offers several beautiful banquet rooms for your reception. Each option is outlined here, and you can click through the website to get more details about the food choices and other inclusions. With the options we're outlining below, these represent reception-only packages. (If you would like to hold your wedding ceremony here too, feel free to check out our all-inclusive wedding and reception complete package choices!)
In any of our three banquet halls, we offer the following reception-only package options:
Splendor
The Splendor Package is the first package option, and it's available at any of the three banquet rooms (Swan, Grand Atrium, or Waterfall). When you choose the Splendor Reception Package for any banquet room, here are the details:
This package is for up to 30 guests, and additional guests can be added for $50 per person
The room is reserved for 3 hours
Splendor packages include water, tea, coffee, and soda as your drink options
Alcoholic beverage options are not included, but are available as add-ons for this package
A champagne toast for all over-21 guests is included
A professional DJ/Emcee is provided (and you can pre-select music you like!)
We do all of the table set up, using the linen color you've selected (we have over 20 color options to choose from)
Centerpieces are included: a fresh, long-stem rose in a vase
The meal for your guests will be a buffet with salad, two entrees, plus a vegetable and a starch; carved-to-order options can be added for an extra fee
A beautiful 2-tier cake is included, with cake service, and you can choose from six different cake designs and pick the flavor you prefer
We have an event professional on-site for all receptions
Grace
At any of the three banquet rooms, you can select the Grace Reception Package. The Grace Reception Package is available for up to 50 guests, and additional guests can be added for $50 per person. It includes all of the above inclusions from the Splendor package, plus a cash bar for your guests. This means your guests will be able to purchase alcoholic beverage options and will be served by someone minding the cash bar; you can upgrade to offer beer and wine for your guests or full bar selections for an extra fee. Additionally, the Grace package includes a larger, 3-tier cake.
Elegance
When you select the Elegance Reception Package for any of the three banquet rooms, you'll get a reception designed for up to 75 guests. Additional guests can be added for $75 per person. With this package, you'll get everything from the Grace package, plus:
The room is reserved for an additional half hour (3.5 hours total)
Table service is included for the bride and groom
Soft drinks, beer, and wine are all included for your guests
Limo service after the reception is provided, with seating for up to 6 people
Radiance Reception Package
Radiance Reception Packages are our most inclusive reception option, available at any of the three banquet rooms. They are intended for up to 100 guests, and additional guests can be added for $85 per person (call us to find maximum occupancy for any banquet hall). As before, the Radiance Reception Package includes everything from the previous package plus:
The room is reserved for 4 hours total
Simple appetizers are included
Full bar options for guests are included (be sure to check out the package detail pages to get a full list of the drink inclusions with any package)
As you can see, there are multiple reception choices, each of which can be customized to meet your needs! Each reception option has a fully-inclusive package price, and add-ons can be utilized to customize the package. There is a 14% service fee, and 8.25% sales tax.
Reception Banquet Room Options
As noted above, we have three gorgeous banquet rooms to choose from when creating your dream reception setting with Always & Forever. The three rooms are the Swan Banquet Room, the Grand Atrium, and the Waterfall Banquet Room. No matter which you select, we'll do all the work—we'll have it all set up and ready for you, and we'll coordinate with the caterers to ensure everything is ready.
Swan Banquet Room
The lovely Swan Banquet Room includes lake views, to allow your guests a relaxing atmosphere for the reception. With all of the reception options, you'll still have the ability to customize to your liking. We offer over 20 different linen colors to select from, and you'll be able to work with the DJ to play the music you prefer. We have award-winning caterers providing the food, and you'll have a lot of food options to be sure you can get something to your (and your guests') liking. And the cakes can be customized with the colors and flavors you want. They'll be delivered right to us—you won't have to worry about anything.
Waterfall Garden Banquet Room
As the name implies, the Waterfall Banquet Room has a beautiful garden area with a large 6 foot waterfall that adds a peaceful serenity to any event. Your guests can relax while dining on the delicious food options you've selected. With each of these locations, you can choose from the Splendor, Grace, Elegance, or Radiance package options.
We offer appointments to come and see our location details before making your selection. (You can also look at our wedding ceremony location options if you're also looking to have your wedding on-site!)
Grand Atrium
The Grand Atrium Banquet Room also boasts calm lake views to enjoy throughout the reception, and has the same inclusions and options as the other choices—it really is up to you!
We are located at 2620 Regatta Dr #109, Las Vegas, NV 89128. You can call us at (702) 318-5683 to schedule today!
We Can Create Your Perfect Las Vegas Wedding Reception
At Always & Forever Weddings & Receptions, our staff has ample experience to put together a professional and beautiful Las Vegas wedding reception to meet your needs. We'll help you customize one of the packages on offer to create a reception that coordinates with your wedding colors and details while keeping things simple by making all of the arrangements here. We are here to make the entire process simpler for you. We've just outlined our reception-only packages above. To make your selection and select what customization's you'd like, you can get started right here online, or feel free to call us at (800) 259-2978 or (702) 318-5683. Our professional wedding consultants are here to help, whether you need to plan the ceremony, reception, or both!