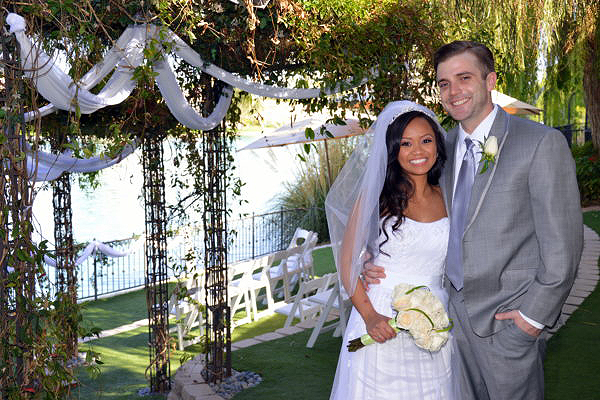 From: $1,099
Having an exquisite ceremony can be possible when you book Always & Forever's Heritage Garden Laguna Package. Our Laguna option brings together the beauty of a breathtaking garden and a lakefront altar, as well as swaying willow trees, to bring to you a magical setting that you will fall in love with. Because we take care of everything for you – the music, chairs, flowers, and more, you can enjoy a stress-free wedding. Continue reading this page to find out more about this affordable Las Vegas ceremony only package.
Heritage Garden Laguna Ceremony Only Las Vegas Wedding Package
Reserve Monday-Thursday to Receive $100 Off This Package!
$1,199 Friday – Sunday (not available at sunset)
$1,099 Monday – Thursday (package price includes a weekday discount)
This Las Vegas ceremony only wedding day package includes up to 30 guests
Our Laguna package is not available at sunset Friday-Sunday
Ceremony Inclusions for Heritage Garden Laguna
Access to the Heritage Garden Ceremony Site for 30 Minutes
Bridal Room Use for 15 Minutes Before the Ceremony
Licensed Officiate Will Be Available for a Civil or Traditional Wedding Ceremony – The Minister's Fee of $75 is Not Included
Our Certified Las Vegas Wedding Planner Will Be Available to Help Plan Your Special Day
You Will Receive a $35 Wedding Flower Credit for Your Ceremony
Included in Your Package is the Use of our Las Vegas Wedding Photographer – Photo Packages Purchased Separately
We Provide Traditional Wedding Music for Your Ceremony
Your Wedding Guest's Chairs Will Be Set-Up for Them Before the Ceremony Starts
If you have your heart set on an indoor ceremony only package, then check out our Lakeview Chapel Wish Ceremony Only Wedding Package. Also, you will want to head over to our Ceremony Only Packages page for an overview of all the incredible packages we offer.
The Heritage Garden Laguna package is for up to 30 wedding guests. For those wishing to have more than 30, you can simply upgrade to the Heritage Garden Aqua package.
The Laguna package price does not include the 16% service fee and taxes on certain items. It also does not include the $75 minister's fee.
Let's Take a Look at A few More Helpful Las Vegas Wedding Resource Pages
If your wedding day is soon approaching, we suggest that you dive into our website and start with the popular pages we have listed below to get the ball rolling with your wedding planning. It doesn't matter what type of Las Vegas wedding you would like to plan; Always & Forever has something for you. Whether you're looking for details on our ceremony only packages and all inclusive weddings, or information on our wedding specials, we have you covered.
Our Full-Service Wedding Venue Will Make Your Special Day One to Remember!
We know that you and your loved one will have a wonderful time when you utilize our Heritage Garden Laguna Package. This popular ceremony only package has everything that you would ever need to create a dream come true wedding day – from the romantic scenery to the wedding flowers, your expectations will be exceeded. All you have to do to make it a reality is to reach out to our team by calling (702) 318-5683, or you can also contact our wedding venue online. Here at Always & Forever Weddings and Receptions, creating the perfect wedding day for you is our number one priority!